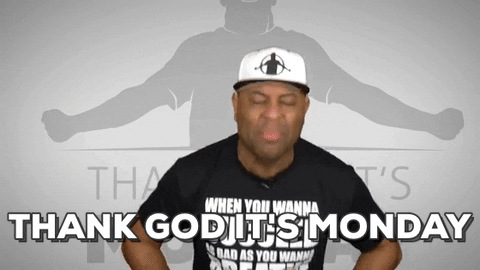 Seven years ago, I was sitting in class at the Organizational Science Summer Institute at the University of North Carolina. I was at the Charlotte campus, surrounded by other underrepresented undergraduate students soaking up this opportunity.
In one week, I was exposed to PhD candidates and professors who assisted me in research surrounding Organizational Science, I/O Psychology, and Organizational Leadership. I also had a rigorous schedule of GRE/GMAT prep and social outings with my peers.
It during one of our study breaks that a student showed me a video.
"This is crazy" he said as he looked at his phone.
"What?" I asked as I leaned in.
He tilted the phone my way to show me one of the most inspirational motivational videos I had ever seen in my life.
The voice recording was over an intense sports video of one person doing intense exercises at 3:00am.
The level of grit and moxie showcased in this video was insane.
It honestly gave me chills and is something that I would continue play for inspiration.
[irp]
That the star of the video, Giovanni Ruffin, was striving to get into the NFL. All he would do is eat, sleep, breathe, and think about was conditioning, football, and the NFL. His life was on autopilot and consumed with the goal.
The level of dedication was unparalleled.
You could see the desire in every rep  he bench pressed, every squat he hit with perfect form, and every stair he ran with the most upright posture. I felt his passion through the small iPhone 6 screen.
The punch line delivered by the voice over said: When you want to succeed as bad as you want to breathe, then you'll be successful.
And as inspirational as the visual aspect of the video was, I had one question….
"Who is the man actually saying the speech?"
No one knew – so I had to dig.
[irp]
You see, I was just starting to understand the power of words and my capability of the leader. I was fascinated by speakers and motivational theories, and the energy that kept the world's most successful people on a continual pursuit of success.
Even if I were to close my eyes while the video played, the voice that  level of conviction and passion expressed through the micro speakers in that small class room was so intense, you could cut it with a knife.
The voice was Eric Thomas, known as ET the Hip Hop Preacher and this video of him speaking had gone viral.
The audio has been repurposed and shared hundreds of millions of times by professional athletes, companies, and other people who create their own content.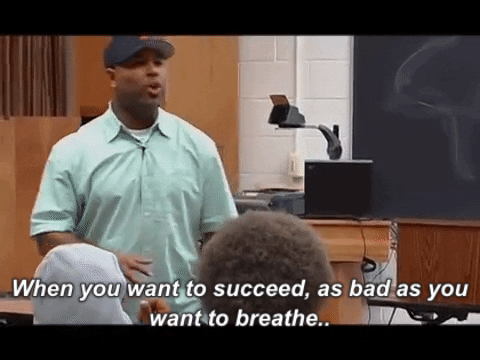 If you've been following some of my blogs for a while, you already know about ET. I've been consuming his content for those seven years. I've quoted him in presentations numerous times, downloaded his mixtapes, and even used his video as motivation to help me finish my final project in graduate school.
And yesterday, another video came to inspire me again.
As I prepared for church, I cut on YouTube and one of ET's video came up. It was too timely for me to give credit to the algorithm alone. The title was only four words: You Have No Discipline
I believe this message was divinely sent for me – and now I want to share it with you.
Not just because it's 11 minutes of a great video. However, it's because I know the energy he has….you have too, otherwise you wouldn't be here.
Now is not the time to back down from your goal or dream. On the contrary, now is the time to double down.
Let's be clear, I'm not just talking about the lofty goal that simply takes time to complete; not the one that comes easy to you and may be difficult for others. I'm talking about the goal deep down inside – that you know is stopping you from reaching your fullest potential.
Yeah, that one.
In order to crush it, you have to analyze what you are doing with your time and what you're taking time to consume. And I'm only saying this because I'm in this with you – working along side by side.
The only difference between us and the rest of the world is that we're not going to let ourselves be in our own way.
There's only one of you and one of me which means that we can't rob the world of our gifts and our talents.
It will take every ounce of you to push past your potential. And just when you've gotten comfortable, another level awaits you.
But you can do this.
Take a listen to the video and if you can feel what Dr. Eric Thomas is saying – leave a comment below.
Always speak life,
Vannesia